Merry Christmas, everyone! Your Christmas present is the story of baby Jesus Bobby. I'm still bugging people for more baby pictures of him since all of mine were eaten by the Laptop of Doom. One day...
Bobby was born March 9th, 2005. He was bred, born, raised, trained, and retired at the college I went to. He's by the now deceased Cobleskill stallion Mighty Magee out of one of the school's also now deceased broodmares Nobody's Angel. Angel had five foals, including Bobby. The first two, He's A Ray and Lion at the Gate, coincidentally ended up in the barn of the trainer I worked for at Saratoga. Bobby was next, and then another bay colt by Oratory who broke down in his first and only start, and a chestnut filly by Ten Most Wanted who disappeared off the radar after being too accident prone to make it to the yearling sales. I'm sure she's still around somewhere, but I have no clue where.
Bobby's family:
Mighty Magee
Nobdoy's Angel
lion at the gate (lion hearted/ nobody's angel)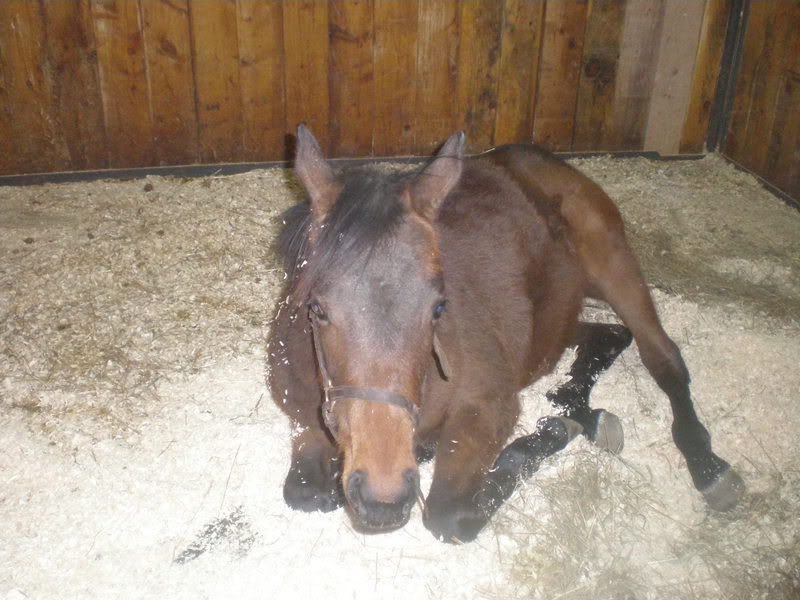 man talk (oratory/nodoby's angel)
alexa raven (ten most wanted/nobody's angel)
Bobby was pretty much the same horse as a baby as he is now. Dopey, kind of stupid looking and friendly, but a total brat to work with. He was famous for taking students mud skiing when they turned him out. He was one of the only yearlings that had to be led with a chain on at all times.
he still loves to play with rubber buckets.
He was finally gelded and became a respectable citizen.
of course i have pictures of his castration!
Bobby was one of the horses that was used for the Thoroughbred Training class that I TA'ed. He was longed, ground driven, ponied, and longed some more.
getting ponied off of jackson.
Finally, the teacher of the class/my advisor/my favorite college professor ever took the majority of the students down to Timmonium to work the sales for a week. He told my roomie and I to keep Bobby going while they were gone. Well, Simone and I being the enterprising young women that we were, decided it was past time Bobby got backed. The same day everyone left, Simone tossed me up. (Making me the first person to ever sit on my horse!) By the time the class got back, Bobby was doing w/t/c in the outdoor.
a slightly different ride back in the day.
Of course, being Bobby, we had to chase him around with a longe whip while the other person was riding him to get him to canter. This "conviently" always seemed to happen when the BM was on break and he'd stand at the fence and laugh at us. We did not have high hopes for Racehorse Magee.
As with most racing-bound Thoroughbreds, Bobby was in full work by the time he was two. He was ridden by probably half a dozen people in that time. However, when the semester long class ended, he kind of fell by the wayside. After seeing him ridden pretty poorly by another girl, I threw up my hands and signed him on as my special project--the same way I ended up with Red. I taught him his leads and later installed his flying changes in preperation of making him fit in on the track. (Flying changes on the track not being quite as subtle as in the dressage ring--Dressage Queens tend to frown upon changes being asked with a boot to the ribs and a sharp tug on the reins.)
ready to be shipped off to be a racehorse.
Bobby was sent to Fingerlakes as a 3yo. He did not behave himself on the track and was shipped off to get some more education at Quiet Woman Farm where he was also sold. From there, he made his first start at the end of November at Aqueduct. As a racehorse, he made $18,705 in 7 starts. He never won, but he had a very good second and third.
durrhhh....
pulling up from a 3f breeze.
He was sent back to his home base of Stonebridge Farm after bleeding heavily in his last two starts. I won't go into specifics because I'm not one hundred percent sure on the details, but he was put up for private sale to collect on unpaid training and board bills. When he didn't sell, he was donated to the school so the owner could cut his losses.
In December of 2009, I offered to buy him for $2,000. My wonderful advisor was not so wonderful and turned down my offer saying he was going to teach off of Bobby forever. Well, that didn't work out. As with a lot of horses that went through the Coby equine program, he didn't stay sound and he wasn't ridden regularly when he
was
sound. My friend rode him the most, but he was never integrated into the lesson program.
crazy magee.
In late November 2010, my friend gave me the heads up that a handful of now useless TBs were headed to auction. Bobby, the "forever" lesson horse, was on the list.
This article
caused an uproar because
this article
was a much more accurate description of what went down. I immediately called the director of the equine program and after a week of phone tag, I finally got in touch with her. She wanted $1,000 for Bobby, but knowing how much I was going to have to pay someone to ship him down to our new state of PA, I told her $600. On December 6th, Bobby joined the herd.
red, bobby, and storm.
He walked off the trailer completely crippled. He had one shoe missing--his foot shredded--and the other shoe barely hanging on. I pulled the loose shoe and Bobby tried going barefoot all the way through April 2011. He failed miserably at it.
coby's farrier: the start of bobby's horrendous feet.
(this is his foot the day he came off the trailer. he'd lost the shoe two days before.)
In January 2011, I sold Storm and moved Red and Bobby to Laurel Ridge Farm after the owner of the pasture and barn I was leasing started stealing hay and grain. I started the blog around this time, but since most of you came in around 2012, I'll do a brief 2011 recap.
LRF allowed no turnout during winter--paddocks were locked. In summer, you had to turn your horse out yourself in one of the two tiny paddocks with no form of shelter. Hay was fed off a roundbale at 4am and 4pm. No extra hay was allowed despite the alloted amount not being nearly enough. Any extra hay that was fed was pulled out by the BO. The barn grain was a mostly-oats mill grain. Bobby and Red dropped a ton of weight so I started buying my own grain. After a lot more weight loss where I kept buying more grain and more supplements, I finally discovered that the BO wasn't feeding my horses their grain. I tried to turn a blind eye on this for a long time, but I finally decided I had to move barns.
I couldn't afford two horses anywhere else, so I made the tough choice to rehome Bobby. I listed him on the COTH giveaways and within a week, a wonderful CoTHer named Lillian agreed to take him home with her.
bobby and wendell.
Lillian rode him some and stuffed him full of groceries until he was downright fat. When Red died, she contacted me and offered him back, no strings attached.
porker.
From there,
you've already read what happened!