Something frivolous has been bothering me for a long time: Bobby has lacked a nice leather halter with a name plate.
Leather halters can certainly be cheap. You can pick up a poor quality one with a buckle chin strap anywhere. Nameplates are also really cheap, running anywhere from $8 - $20. However, the cheap leather halters don't usually fit Bobby's strangely shaped head, and I detest the buckle chin straps. So Bobby has been sporting a variety of colored nylon halters with matching lead ropes while I complained about the way they rub his nose for the ten minutes a day he has to wear them, and while I keep telling myself that eventually I'll just bite the bullet and order him a nice leather track halter.
Then, when I was digging through one of my multiple tack trunks filled with miscellaneous crap while looking for... I don't remember what before our first show of the year, I pulled out a moldy track halter that was worn by the very first baby I ever broke out.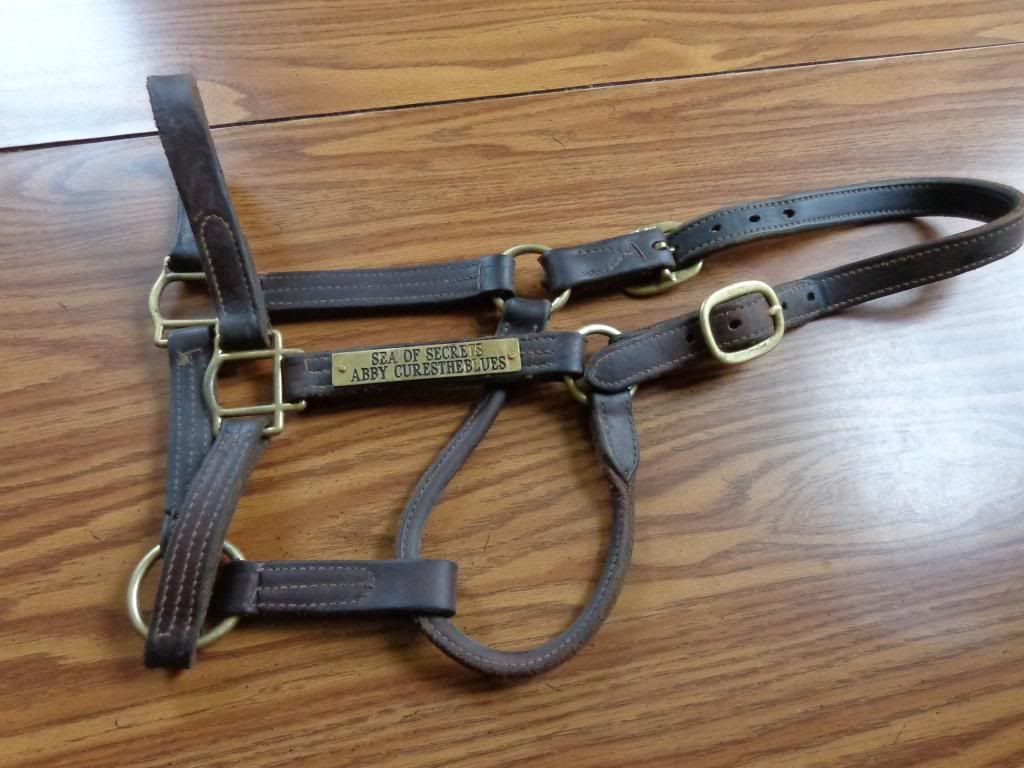 The filly was eventually sold as a riding horse as she was deemed too small and too quiet to work for the school's racing program, but I kept her halter as a keepsake. I scrubbed the halter down, oiled it, and threw it on Bobby to see if it would fit him.
modeled here after burgundy hollow.
Since that was a success, I searched the internet for the cheapest nameplate available and used some of my PayPal funds to order a $9 engraved nameplate (plus $10 shipping--what's up with that?!). It got here last Friday and I ambitiously decided I was going to put it on myself.
You may not think that something so small would be so hard to work with. I was deeply involved with technical theatre in high school and I can saw, drill, and build large wooden scenes in no time flat. But hand me a screw driver and a six inch piece of metal and I'm like, "......??" I eventually pried the old nameplate up with the screw driver enough that I could cut the old screws off with metal cutters--only gauging a massive hole in one of my knuckles in the process, thank you very much. Then the old holes were too small for the new screws (LOL), so I used a pre-drill bit to make them bigger and then hammered the new screws in so they were nice and snug.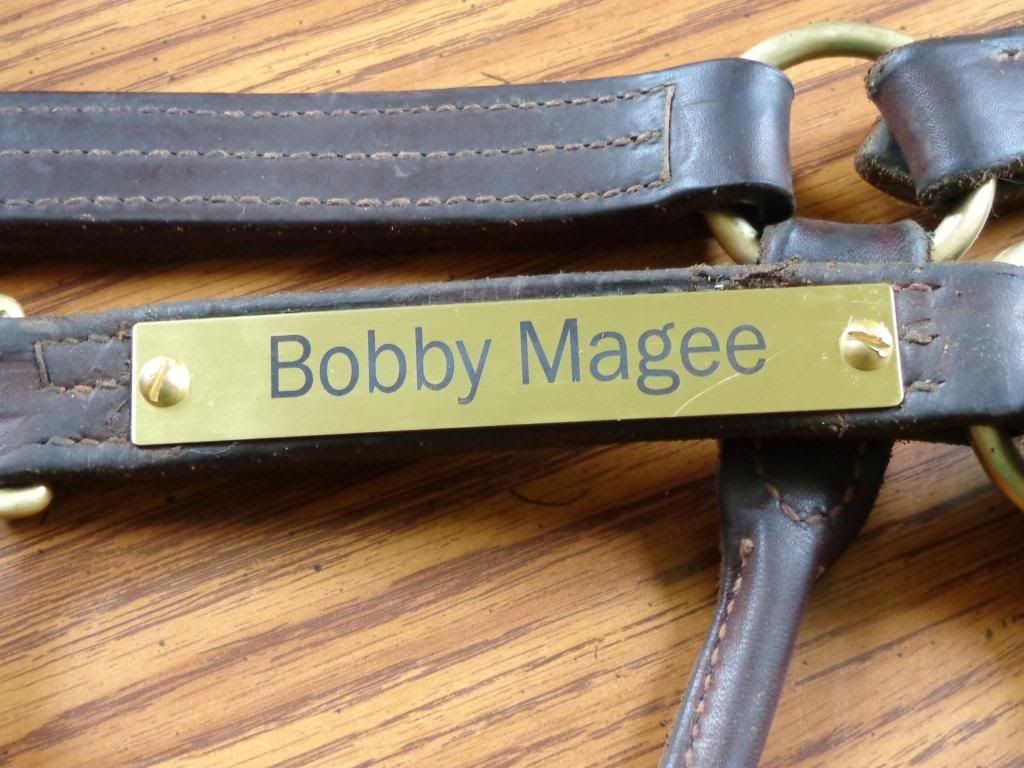 tah dah!
The leather is a little rubbed in some spots, and it's not shiny new, but it's buttery soft and fits his silly head. Plus, I would never want to stray from the Poor Woman theme of this blog!
finally a little class.
Bobby seems no worse for wear from his lackluster performance over the weekend, and I jumped on him bareback yesterday to wander around the farm for a few minutes. We eventually ended up on the grass outside the round pen where I stopped him so we could do that strange human bonding thing where the rider sits on their horse's back while the horse grazes. The only problem was that Bobby knows he's not allowed to snatch at grass while under saddle so he simply stood there while up to his knees in snacks. I eventually figured out what the issue was and got off so he could graze. Poor dude does try to be good most of the time.