Today is my puppy's fourth birthday!
tiny cow dog the day we got her.
We went to McDonald's for her birthday sundae.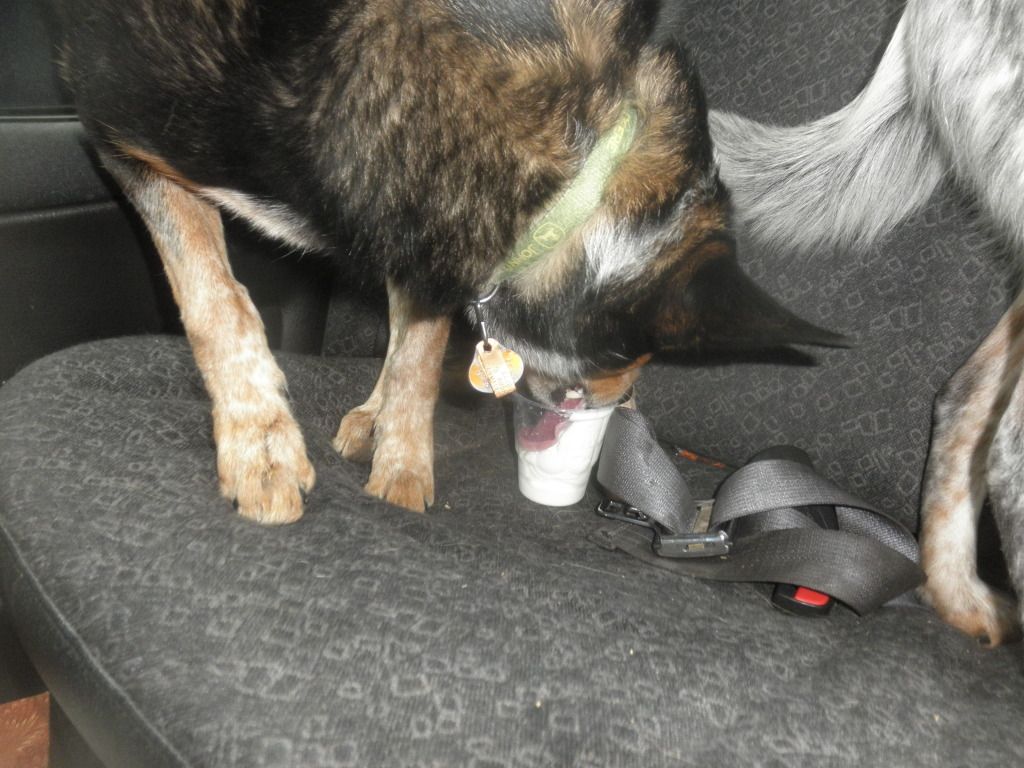 She was nice enough to let her sister come along.
She got a stuffed animal of Horton, but Pig stole it as soon as it was out of the wrapping paper and Darcy went to work shredding the paper. She has her priorities straight.
Robert had a dressage school today. I'm so happy (wait for it...) to have a Happy Mouth (tah dah!)again. He's so much lighter than he was in the slow twist I was schooling him in after his break. The plastic on the HM with the roller was starting to get chomped too much and I like the way he goes in the slow twist... but he goes like a gem in a HM. Plus it's legal. Always a bonus.
Today's ride made me appreciate how far we've come in a year. Bobby was so responsive, so willing, so soft, and so lovely the whole ride. He had a few moments where his llama side peeked through, but overall, it was just an easy hour ride where we worked on what I wanted to and accomplished it without fighting.
Where were we late winter/early spring last year? We were trotting and cantering ground poles because he wouldn't go near a raised fence, no matter what height. He was beyond terrified of whips. He couldn't canter a 20 meter circle, and could barely manage to hold a canter down the long side of the arena. He threw massive temper tantrums when faced with a cross country jump. His favorite thing to do on trail rides when he wasn't getting his way was to rear up and fly backwards. He had no lateral movements, and no sense of being on the bit.
This time around? He jumps 3' confidently. He's schooled 3'9. I carry a whip when jumping, and I can use it when needed without him taking offense. He's got a stretchy canter on a 20m circle, and a collected canter on a 10m circle. He counter canters. He's got the start of a flying change. I'm totally confident in starting the year at Novice and moving up to Training mid-season. He ponies on trails, or he can go out alone and walk on the buckle. He's solid in First Level dressage.
of course, he's still pretty ugly and he likes to drop weight for NO REASON,
but he has a topline! and a mane that lays flat!
Now I have to be mean to my stripey kitten and schedule and appointment to get her spayed. Poor tiny kitten.