No! It's a saddle! On my horse!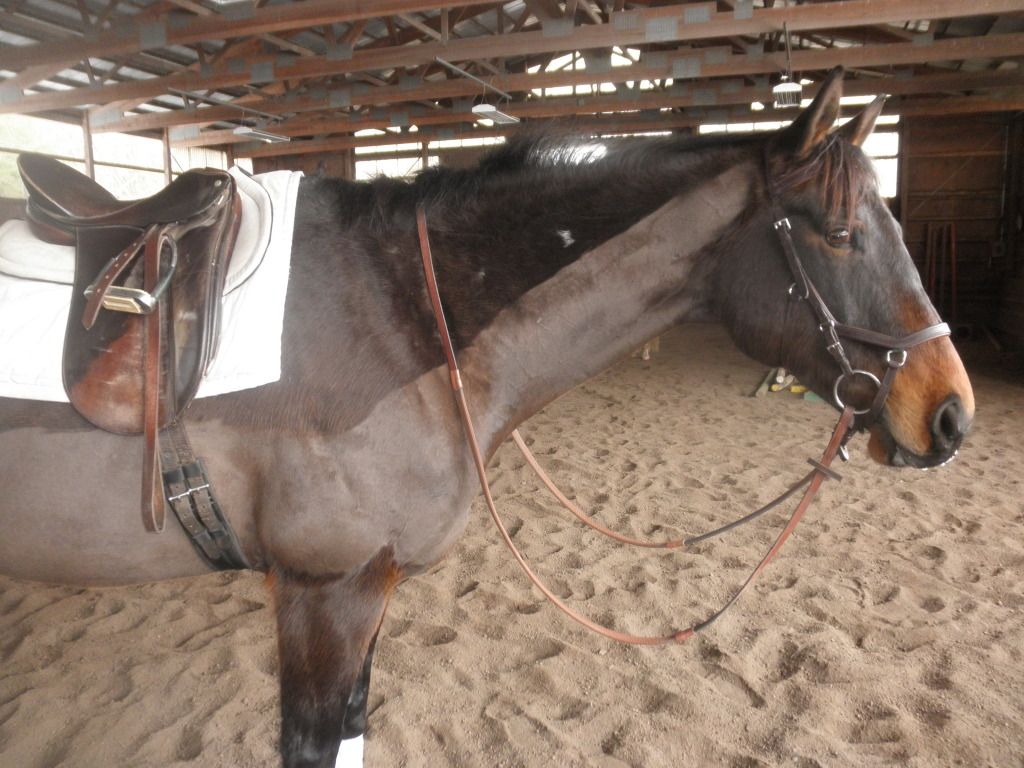 don't you judge my shitty tack. it fits my horse.
Eight days off, three days of stall rest, no pre-longe session, and Bobby stepped right back into work exactly where we left off. We walked to the left while Sunny did his w/t/c work, focusing on basics like not leaning on the bit, lateral work, halting and walking off without poking his nose out, and rein back. When we switched directions, I asked him for the trot. He felt good. Maybe not as big and bouncy as usual, but not short or sore either.
I asked him to really go to work on sitting on his sad little butt and bringing his two ton head up. Suprisingly, this was hardly difficult. I did some sitting trot straight down the quarterline, then asked for the walk on the short side and did shoulder in down the opposite long side. He was so fab, I decided to try to shoulder in at the trot, something we've gotten maybe one step of so far. Down the quarterline feeling fly, Sue called out that we looked really pretty, and asked for the shoulder in.
Bobby did a beautiful interpretation of a drunken giaraffe trying to do ballet. All four legs went different directions, his head went up and out, and we kind of drifted off the rail and kind of didn't. The patent is pending on this upper level movement once I figure out what to call it. I giggled the whole way down the longside because I could see us in the mirror and it was such a mess. Back to the walk where he gave me his best effort yet, and he let me know that was the limit his foot could take for the day. A good place to end, and a good exercise to work on in the future.
foamy slobber face.
He'll get tomorrow off. Our ride was only twenty minutes at the most, but come on. The dude just had a hole in his foot. I'll cut him some slack.