I didn't make it out to the barn yesterday. We got a ton of wet, heavy, disgusting snow that made the roads a complete mess and the Saturn has proven a most unworthy snow vehicle. So I stayed home and watched Youtube videos. And then my bestie sent me
this video.
Seriously, where do people even come up with this shit?
I did go to the barn today with zero plans or ambitions which suited Robert fine. Also, apparently he blew an abcess?
Hmph. Did not see that coming at all. He wasn't the slightest bit bothered by it.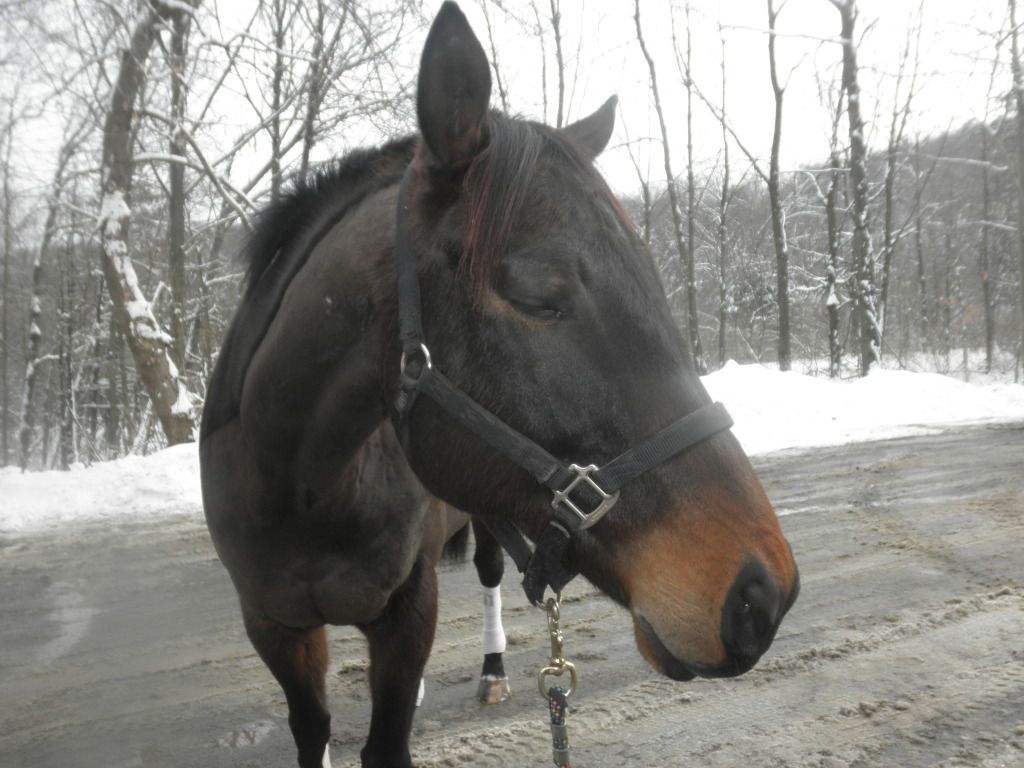 poke my foot and feed me cookies. durh durh durh.
I longed him a bit, did some in-hand work to get him moving his hindquarters since he's been taking offense to this lately, and then let him loose while I set up a jump chute. I figured he'd roll and walk around a bit, but he just stood there and watched me set things up.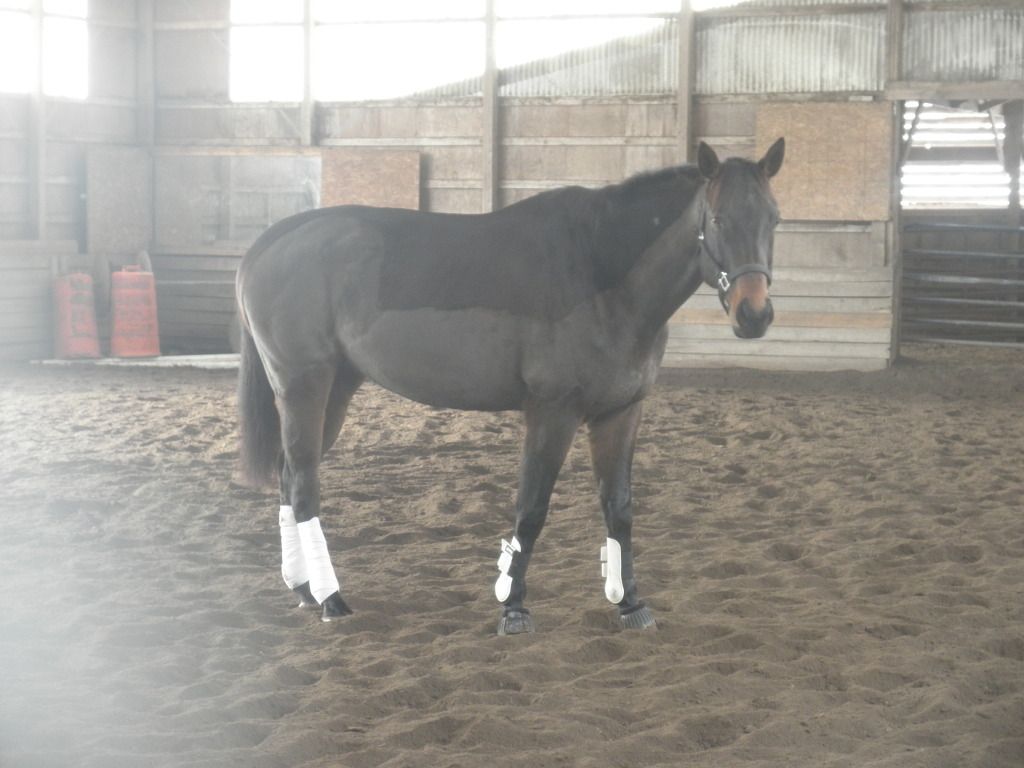 caution: maniac on the loose.
I tried to video him progressing through it, but it was way too much of a pain in the ass. I got one video of him going through the second combination I set up which worked out well because he heard Pilot walking down the trail we went on Tuesday and he went into Prancey Pants mode, showing off why I haven't sold him to the Amish yet--the big beast really is fancy deep down inside.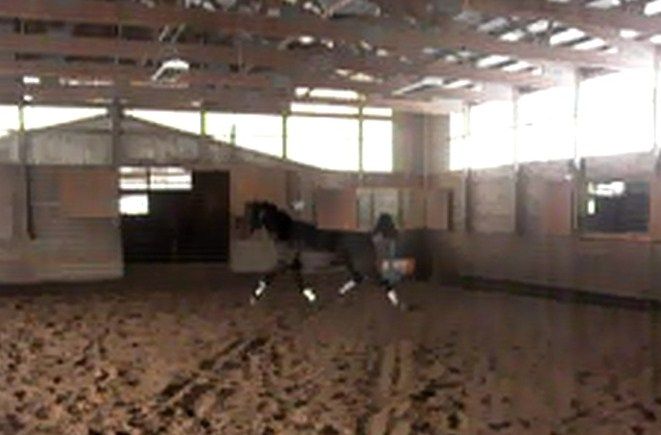 work it, mr magee!
Maybe when he starts doing this during warm up at shows because he sees other horses jumping I should just let him have at it. We'd have our lengthenings down in no time!
We ended with it maxed out at 4', at which he continually knocked down the front rail just being plain lazy with his knees until I chased him into the chute and he got some speed to it. Then he cleared it fine. That was good for me to see because now I can be like, "We are going
so slow
. But it's not me, Bobby. It's you!" Well, it's both of us because I can't let him get away with it, but now I know he's just naturally a plug and maybe that will help me with the whole forward motion thing while jumping.
"well hey there, handsome. what do you have to say for yourself?"
I rode him around with his halter and lead rope for awhile afterwards which just made me miss my Red Pony. Some days I feel like I just traded out Bobby for Red and all I have to do is say the word to get Red back. And I really need to cut out tags and re-label all my blankets because this is probably the fourth or fifth time putting Red's old blanket on Bobby has pretty much destroyed me.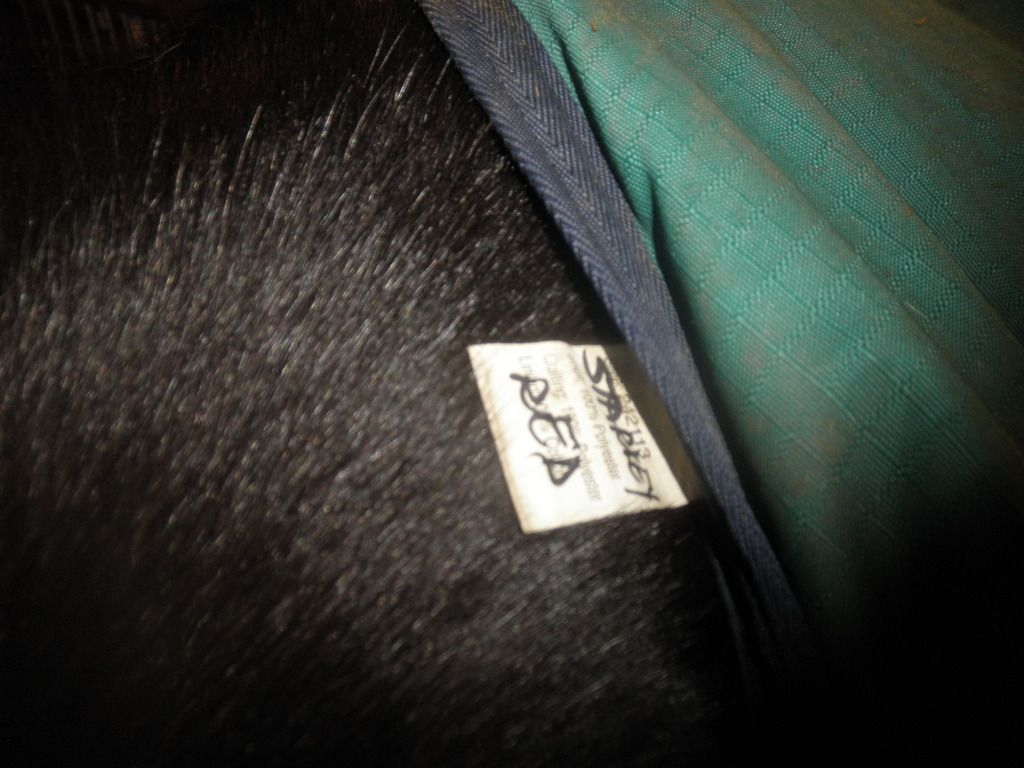 :(